Calendar
FAMILY DAY
| | |
| --- | --- |
| When | Saturday 4 December 2021 |
| Location | |
| Price | Free entrance |
From 2 p.m. to 5 p.m. you can drop in at Kuumba and enjoy activities and workshops for young and old!
GAMES @ MUZIEKPUBLIQUE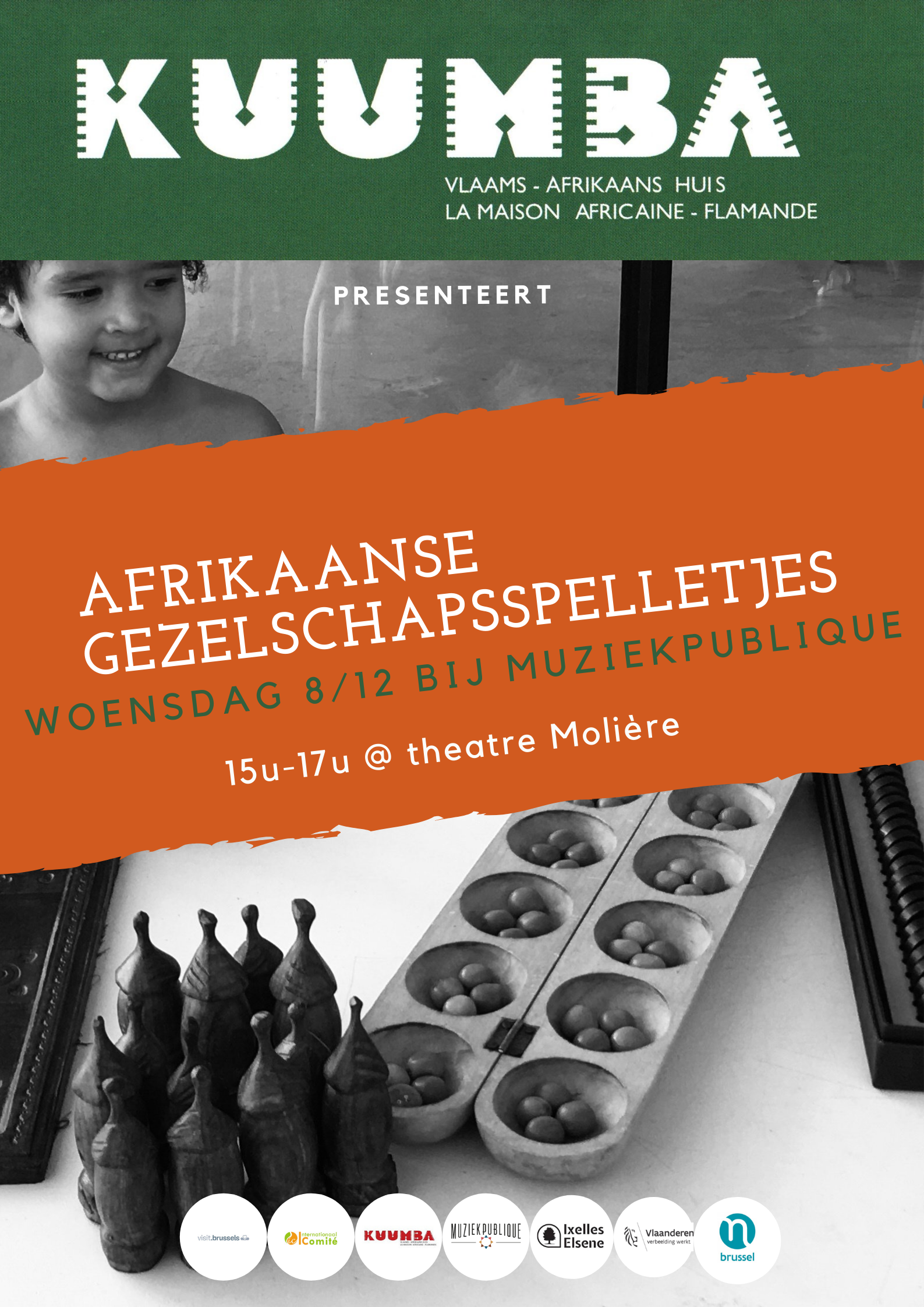 | | |
| --- | --- |
| When | Wednesday 8 December 2021 |
| Location | Molière Theatre, Galerie de la Porte de Namur, 3 Square du Bastion, 1050 Bruxelle |
| Price | Free entrance |
Don't know what to do? Are you curious to discover new games from all over the African continent? Or are you already a good Awalé player and looking for new opponents?
Come and try out our African board games and have a great afternoon for young and old. Alone, with friends, with your family... Everyone is welcome!
Wednesday 8/12 from 15h-17h in the foyer of Muziekpublique
THE CHANCE TO FIND YOURSELF - BENNO STEINEGGER & JOVIAL MBENGA
| | |
| --- | --- |
| When | Wednesday 15 December 2021 |
| Location | Theater Molière |
| Price | € 10 |
When Benno Steinegger and Jovial Mbenga started creating The Chance to Find Yourself, they did not know each other. The two come from very different cultural and economic backgrounds: one is from Tirol (Italy), the other from Congo. Today, they both live and work in Belgium. What started out as a theatrical adaptation of the novel Heart of Darkness by Joseph Conrad, soon became a performance about the encounter between two people their differences and what they have in common. From a place of genuine curiosity for the other, they faced their ignorance about their own discriminative behaviors and thoughts that influence their respective daily lifes. Nevertheless they where able to find a shared aesthetic language. In the end, this process became the result: a playful theatrical peek behind the curtain of a friendship and collaboration with many ups and downs. How close can we really get to the other? What if we operate from a place of difference and see what happens from there? What role does our way of looking play in all of this? How much are we influenced by white power structures without being conscious of it? In The Chance to Find Yourself, Steinegger & Mbenga relate to these questions with bold humor and abstract imagination.
15/12 19h30
@ Theater Moliere
You can buy tickets via this link!