Benin in Kuumba : Official opening
10 September 2022 - Kuumba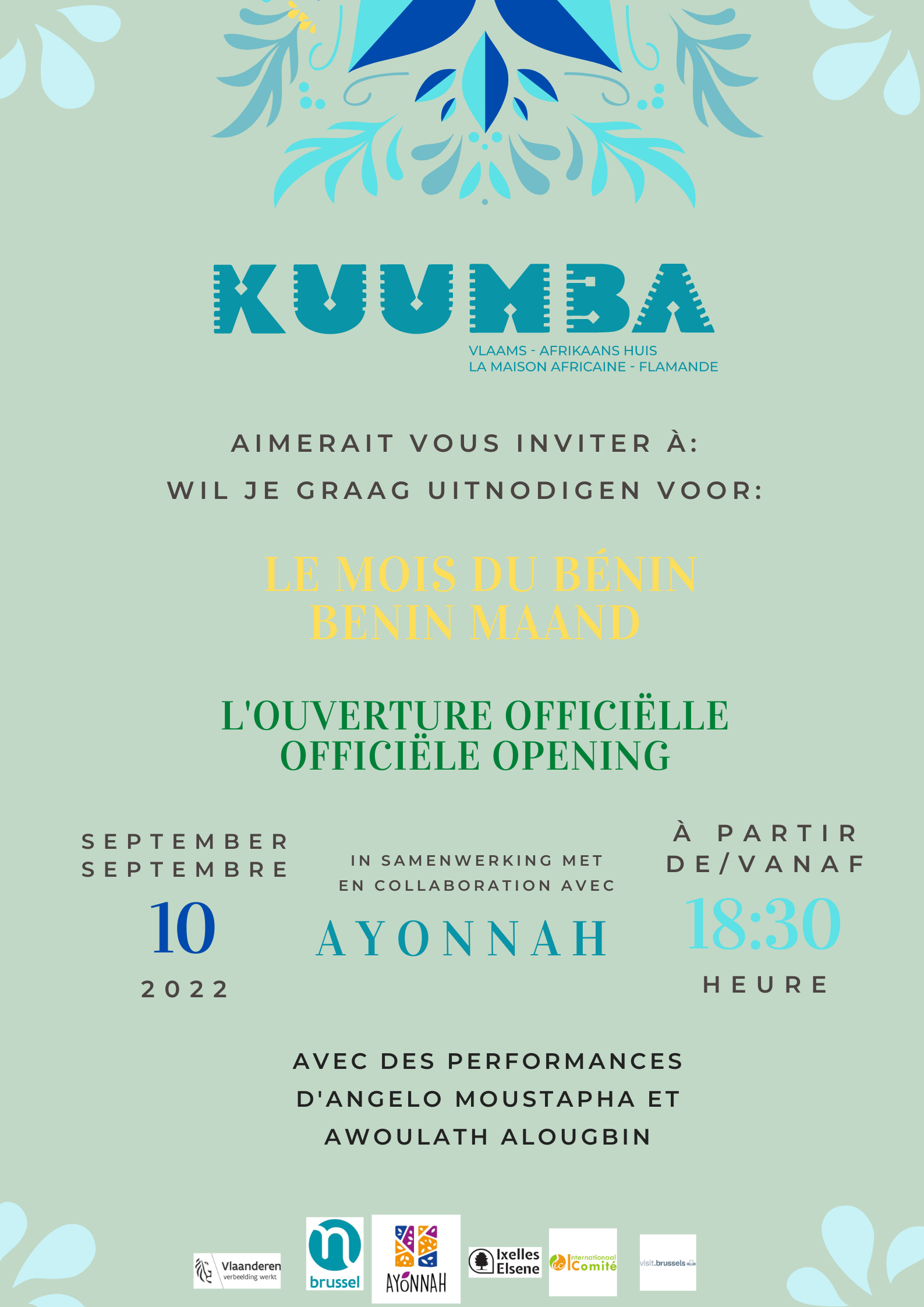 To show the diversity and the wonderful cultural differences of the African continent, we would like to focus on one in particular. September is Benin month at Kuumba! With exhibitions, lectures, musical performances and workshops for young people and adults. All activities are co-organised by Ayonnah and accompanied by various artists and performers from Benin.
To officially inaugurate the month, on 10 September we invite the dancer, singer and choreographer Awoulath Alougbin and the drummer, percussionist and composer Angelo Moustapha.
As a Yoruban, Awoulath Alougbin expanded her knowledge of traditional dances during her training with the National Ballet of Benin. From an early age, she was immersed in the artistic world. Through her meeting with the Haitian choreographer Ketly Noël, she discovered the world of contemporary dance. Confirming her qualities as a dancer, she participated in several creations, such as Les Feuilles qui résistent au vent by the choreographer Koffi Kôkô and Le Sacre du Printemps by Heddy Malem.
Awoulath Alougbin, in collaboration with other dancers from Benin, formed the group Sacam Danse and also founded her own company Compagnie AA. In 2004 she established herself as a choreographer with the performance Aga Oba, together with Clement Kakpo and the Nigerian dancer Qudus Onikekun.
In 2014 Alougbin moved to Brussels. There she coordinates Radio Transit Lab, a project that brings together musicians with different roots. At the same time, she organises dance workshops and is active as an audience member for the Brussels city theatre KVS.
Angelo Moustapha was nominated for the MIA competition in December 2017 (Best Instrumentalists of Africa). He started playing music at a very young age and at the age of 7 he already gave his first concert. Even more than a passion, music is a vocation for this multi-instrumentalist whose influences range from traditional music, modern music and jazz.