Museum Soiree
30 September 2023 - AfrikaMuseum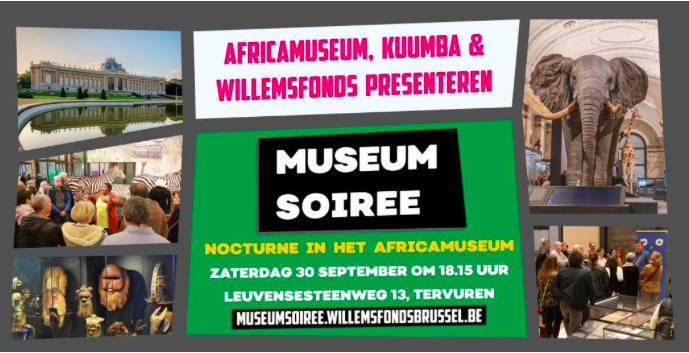 In collaboration with the Willems Fund and the AfricaMuseum, we are inviting well-known and lesser-known guides to talk about the most extraordinary objects, spaces and stories at various places in the museum during this nocturne.
Upon arrival, you will be given a map showing each guide. There is no mandatory route, so you can also quietly explore the museum itself between the guides' narrations.
The occasional guides who welcome you this edition are:
Stijn Vercruysse, vrt journalist
Gia Abrassart, writer & journalist
Bart Ouvry, director Africamuseum
Nadia Nsayi, responsible cultural programming AfricaMuseum
Peter Berx, entomologist
Rik Pinxten, anthropologist
Salomé Ysebaert, sociologist
Don Pandzou, decolonisation specialist
Aline Nyirahumure, coordinator Kuumba
From 18h00 you are welcome at the museum to put away your coat/bag in advance. From 6.15pm to 8.30pm, you can look around the museum for the occasional guides who will be available to let you know more about the most interesting pieces in the museum and their context. Afterwards, we will offer drinks in front of the museum entrance, outside in the beautiful park.
Practical:
The address of the Africa Museum is Leuvensesteenweg 13, Tervuren.
Coming by car? = There is a brand new large car park right opposite the museum. You can park there for free.
Coming by public transport? = The tram line to Tervuren is suspended for a long time due to works. You can take a replacement bus from STIB, but we also put in a bus that departs from Montgomeryplein in Woluwe-Saint-Pierre (accessible by metro 1, trams 7, 25 and 81 and buses 27, 61 and 80). If you want to ride this bus for free, you can indicate this at the time of your ticket purchase.